In this blog post I will show you how to install VMware Workstation Player 12 in Windows 10.
VMware Workstation Player 12
Vmware Workstation Player formally known as Vmware Player is a Virtualization software used to run multiple virtual machines on the same hardware. Its available for both Windows and Linux based operating systems. It runs on 64 bit operating system, which means that if you have 32 bit operating system, you will not be able to use it.
Earlier, VMware Player was distinct from VMware Workstation. But now they have been merged. That is to say, VMware Player is now available as VMware Workstation Player which shares the same core as the VMware Workstation. The only difference is that, VMware Workstation provides all the features, where as VMware Workstation Player is a stripped down version of VMware Workstation pro and does not have all the features.
But the good part is that VMware Player is free and provides enough functionality for Home and non commercial users. It provides enough features to be able to run a virtual machine on a home computer.
Vmware Workstation Player is not a commercially supported application. That is VMware does not provide support for it. But there are sufficient help available online. Once you start using it, you will see that the way you use it similar to VMware Workstation pro .
Lets get started with the installation process. The setup process is fairly straight forward.
Step 1 – Download the installation file
Visit the official website to download the installer file. You will see two download options, one for windows and the other for Linux. Choose the Windows Installer file which would be around 79 MB.
Step 2 – Launch the installation process
Double click on the downloaded installation file. It will have the file name like VMware-player-12.5.7-5813279.exe. Here 12.5.7 is the version number and 5813279 is the build number.
You will see User Control Account Control warning, asking if you want to allow the installer to make the changes. Press Enter to accept and start the installation process.
Step 3 – Setup Wizard
Once the installation process starts, you will see a welcome to VMware Workstation Player 12 setup wizard dialog box. Click Next to continue.
Step 4 – End User Agreement
You should now see a dialog box asking you to accept End User Agreement. Check the accept check box to accept the agreement and click Next.
Step 5 – Custom setup dialog box
In the custom setup dialog box you will be asked to if you wish to install Enhanced Keyboard Driver. Check yes to accept and click next.
Step 6 – User Experience dialog box
In the user experience dialog box, you will be asked if you would like to check for upddates automatically at startup and agree to send a anonymous system data and statistics. I normally accept the default and click next.
Step 7 – Select Shortcut options
In this dialog box you will asked where would you like to place the shortcuts. You can go with the defaults and click next.
Step 8 – Ready to Install confirmation dialog box
You will see ready to install dialog box. Click Install to start the installation process and with for the process to complete.
Step 8 – Installation completes
Click Finish to complete the installation.
Step 9 – Reboot computer
You will be asked to reboot your computer. Click yes to reboot.
Step 9 – Launch VMware Workstation Player
Start the VMware Workstation Player application, by clicking on the icon on the desktop or by searching for the VMware Workstation Player in the search in taskbar. For the first time you will be asked to enter the email address to register. Enter your email address and click continue.
Click Finish to start using the application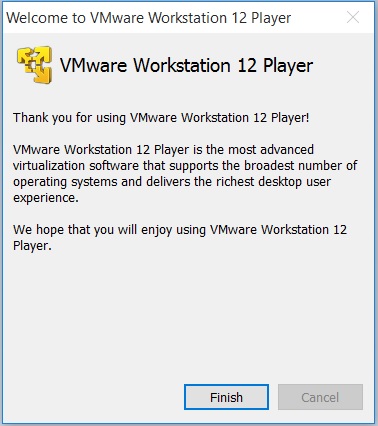 Installation successful
Now you will see the VMware workstation Player application home screen. Vmware Workstation player is ready to use.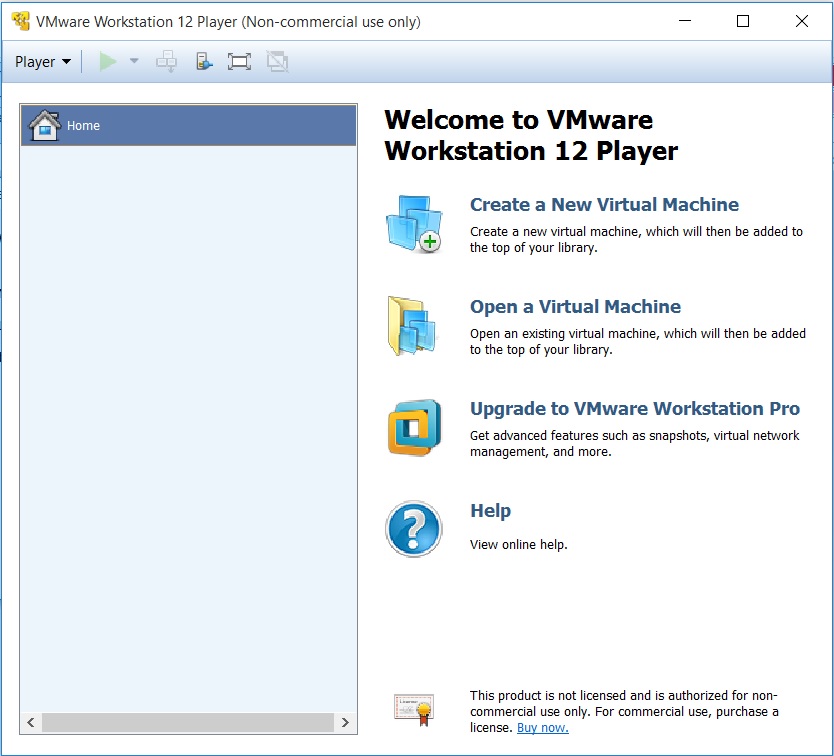 That's it. Thanks for visiting my blog